Do you need a hand with sizing, stock or a product recommendation? Our Product experts are available to help! Give us a call on 1800 875 277 and press option 1.
Our shoes are sized according to the US standard. All our shoes are unisex, so no one is excluded from wearing our kicks! We can understand how this can be confusing when placing an online order. We recommend using the size selector which is located on each product page to help you determine your correct size. Select a size and you can toggle between Men's/Women's/UK/EU to find your size conversion.
When purchasing an item from a unisex range, your invoice will reflect the US Men's (default) size.
For example, you might be a US Women's 7 however it will show as US Men's 5 at the checkout and on your order confirmation. In this instance, a US Men's 5 is equivalent to a US Women's 7!
Alternatively, you can refer to our comprehensive size guide to help you get the correct size.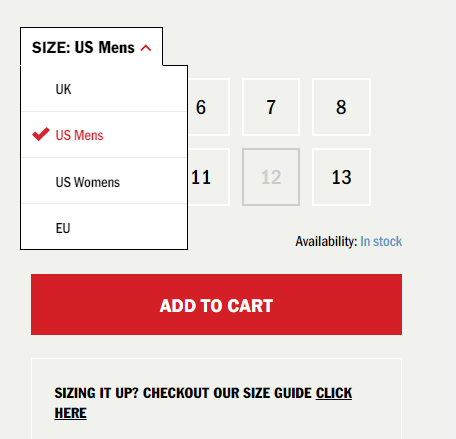 Any questions? Feel free to hit up our Customer Experience team below!